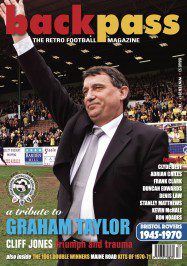 Backpass Issue 53

Out now … £4.50 in the UK, £7.50 in Europe and £8.75 in Rest of the World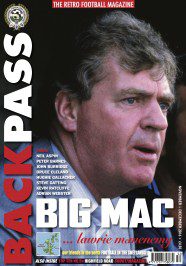 Backpass Issue 52

(November/December 2016) Laurie McMenemy, Neil Aspin, John Burridge, Bruce Cleland, Hughie Gallacher, Steve Gatting, Kevin Ratcliffe, Adrian Webster, Top Ten No. 5s, Highfield Road, Shoot! magazine, Football in the Shetland Isles and the 1977-78 FA Cup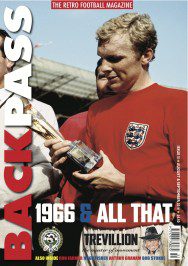 Backpass Issue 51
(August/September 2016) Paul Trevillion, Geoff Hurst, FIFA fiddle, What Might Have Been in 1966 and all that, Ron Farmer, Hugh Fisher, Arthur Graham, Bob Stokoe, Goal magazine, Kettering Town's groundbreaking sponsorship, A Decade in Time – Ipswich Town, Bob Smith (former groundsman at the Baseball Ground), Toronto Metros-Croatia and the 1966-67 FA Cup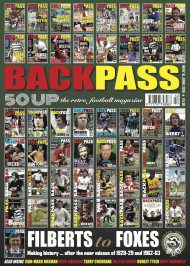 Backpass Issue 50
(May/June 2016) Filberts to Foxes, Leicester City's near misses, Mick Channon, Jean-Marc Bosman, Terry Cochrane, Joe Gallagher, Dudley Tyler, Gary Waddock, Allan Gilliver, Mike Burgess, Gordon Morritt, Brendan Foster's Dream 'Toon' Team, Charles Buchan's Football Monthly, Crystal Palace 2 Everton 2 and the 1971-72 FA Cup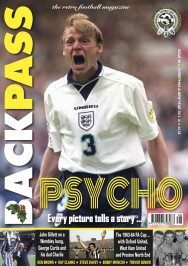 Backpass Issue 48
(Christmas/New Year 2015) Stuart Pearce, John Sillett, Ken Brown, Ray Clarke, Steve Davey, Bobby Moncur, Trevor Senior, Oxford United, West Ham and Preston in the 1963-64 FA Cup, Off The Ball fanzine and the 1953-54 season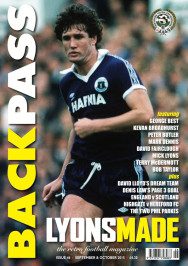 Backpass Issue 46
(September/October 2015) Mick Lyons, George Best, Kevan Broadhurst, Peter Butler, Mark Dennis, David Fairclough, Mick Lyons, Terry McDermott, Bob Taylor, David Lloyd's Dream Team, Denis Law's Page 3 Goal, England v Scotland, Highgate United v Hereford FC and Remembering Tony Allden, the two Phil Parkes and the 1965-66 FA Cup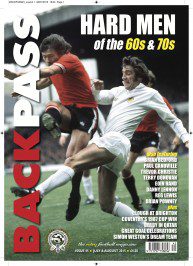 Backpass Issue 45
NOW SOLD OUT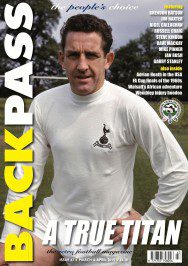 Backpass Issue 43
NOW SOLD OUT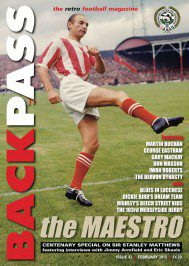 Backpass Issue 42

(February 2015) A Stanley Matthews special, Martin Buchan, George Eastham, Gary Mackay, Don Masson, Iwan Roberts, The Beavon dynasty, Birmingham City in Lucchese, Dickie Bird's Dream Barnsley Team and the 103rd Merseyside League derby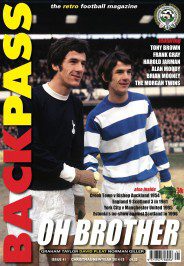 Backpass Issue 41
(Christmas/New Year 2014-15) The Morgan brothers, Tony Brown, Frank Gray, Harold Jarman, Alan Moody, Brian Mooney, Crook Town v Bishop Auckland in 1954, England 9 Scotland 3 in 1961, York City v Manchester United in 1995 and Estonia's no-show against Scotland in 1996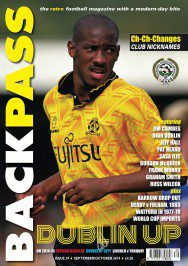 Backpass Issue 39
(September/October 2014) Dion Dublin, Jim Cumbes, Jeff Hall, Pat Heard, Sasa Ilic, Gordon McQueen, Frank Munro, Graham Smith, Russ Wilcox, Derby v Fulham in 1983, Watford in 1977-78, World Cup imports, club nicknames and the 1975-75 season.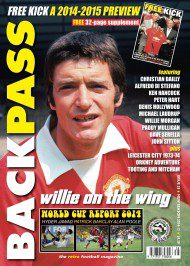 Backpass Issue 38
(New Season 2014-15) Willie Morgan, Christian Dailly, Alfredo di Stefano, Ken Hancock, Peter Hart, Denis Hollywood, Michael Laudrup, Paddy Mulligan, Dave Serella, John Sitton, Leicester City 1973-74, Orkney adventure, World Cup report and FREE KICK, a 32-page supplement previewing the 2014-15 season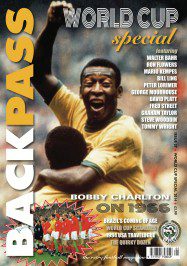 Backpass Issue 37

(World Cup special 2014) Bobby Charlton on 1966, Brazil's coming of age, World Cup scandals, 1994 Travelogue, Walter Bahr, Ron Flowers, Mario Kempes, Bill Ling, Peter Lorimer, George Moorhouse, David Platt, Fred Street, Graham Taylor, Steve Wooddin, Tommy Wright, ten World Cup scandals and I Was There (the 1966 World Cup final)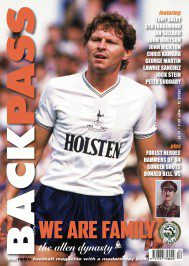 Backpass Issue 36

NOW SOLD OUT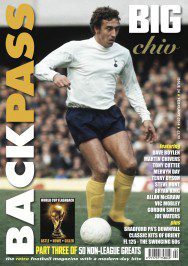 Backpass Issue 34

(February 2014) Martin Chivers, Dave Boylen, Tony Cottee, Mervyn Day, Terry Dyson, Steve Hunt, Bryan King, Allan McGraw, Vic Mobley, Gordon Smith, Joe Waters, Bradford PA's downfall, Classic kits of Orient, World Cup flashback featuring Jeff Astle, Don Howe and Norman Giller and 1989-90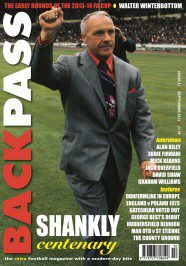 Backpass Issue 31

(September 2013) Bill Shankly, Alan Biley, Eddie Firmani, Mick Kearns, Jack Overfield, David Shaw, Graham Williams, Dunfermline in Europe, England v Poland 1973, Gateshead voted out of the Football League, George Best's debut, Huddersfield reunion, Walter Winterbottom and 1991-92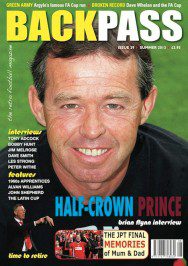 Backpass Issue 29
(Summer 2013) Brian Flynn, Tony Adcock, Bobby Hunt, Jim Melrose, Dave Smith, Les Strong, Peter Withe, 1960s apprentices Dave Hodkinson and Dougie Griffiths, Alvan 'Tiger' Williams, John Shepherd, The Latin Cup, the end of an era for Sir Alex Ferguson, the Greatest Shirt Sponsor Ever, the 2012-13 JPT final, Brighton 2 Bristol Rovers 8, the 1953 FAI Cup final, Leicester City kits and 1983-84
Backpass Issue 26
(Christmas/New Year 2012-13) John Richards, Neville Southall, Brian Horton, John Aldridge, Gerry Baker, Terry Eades, Iain Jenkins, Keith MacRae, Steve Phillips, Brian Greenhoff, Arthur Rowe, Graham Tutt, Freddie Goodwin, Tony Jacques, kits of Sheffield Wednesday, Millmoor, Christmas football, the Football Pools, Barry Lenton and 1987-88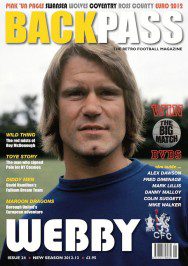 Backpass Issue 24

(New Season 2012-13) David Webb, Mark Lillis, Danny Malloy, Colin Suggett, Mike Walker, Alex Dawson, Roy McDonough, Clive Toye, Diddy David Hamilton's Dream Team, Borough United's adventure in the European Cup Winners' Cup, Fred Dinenage, Ross County, Chesham United in the 1968 FA Amateur Cup final, Coventry City v Colchester United in 1964, a look back at Euro 2012 and 1992-93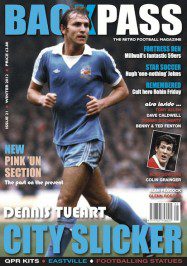 Backpass Issue 21
(Winter 2012) Dennis Tueart, Tony Allen, Dave Caldwell, Tommy Docherty, Benny and Ted Fenton, Alan Gowling, Colin Grainger, Dixie McNeil, Alan Peacock, Glenn Roeder, Millwall's fantastic 59ers, Hugh Johns and Star Soccer, Robin Friday, QPR kits, Eastville, Footballing Statues and 1954-55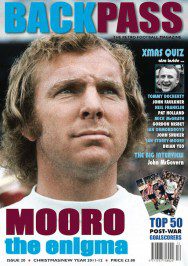 Backpass Issue 20

(Christmas/New Year 2011-12) Bobby Moore, Tommy Docherty, John McGovern, John Faulkner, Neil Franklin, Pat Holland, Mick McGrath, Gordon Nisbet, Ian Ormondroyd, John Shuker, Ian Storey-Moore, Brian Yeo, Stoke City v West Ham in the 1972 League Cup semi-final, Kilmarnock v Hearts in 1965, the Anglo-Italian Cup, the Baseball Ground, Record-breaking post-War goalscorers, classic kits of Hull City and 1990-91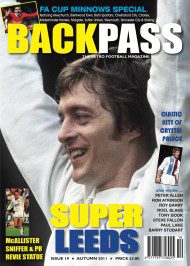 Backpass Issue 19
NOW SOLD OUT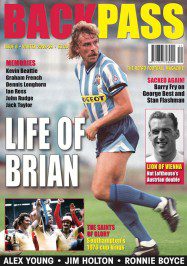 Backpass Issue 6

NOW SOLD OUT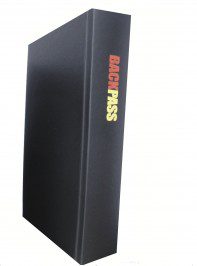 Backpass Binders will be available by mid-March. They are £14 in the UK, £16 in Europe and £20 in the Rest of the World. They hold 12 copies of the magazine.